Military Appreciation Month | American Hole 'N One
As we begin Military Appreciation Month, we would like to show our appreciation by showcasing one of our long-time partners, The Stephen Siller Tunnel to Towers Foundation.
Through our partnership with General Motors, we were introduced to this amazing group who works to build homes and better lives for military veterans and first responders who have given extreme sacrifices for their community and country. On today's blog we have Frank Siller, the Chairman of the foundation and brother of Stephen Siller to talk to us about the foundation, what it does and how you can get involved.
Todd Wagoner: How was the organization founded?
Frank Siller: It is named after Stephen Siller who died helping to rescue others during the tragic events of 9/11. On September 11, 2001, Stephen, who was assigned to Brooklyn's Squad 1, had just finished his shift and was on his way to play golf with his brothers when he got word over his scanner of a plane hitting the North Tower of the World Trade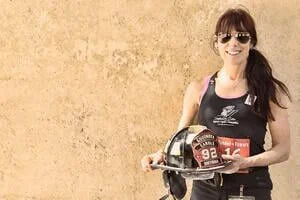 Center. Upon hearing the news, Stephen called his wife Sally and asked her to tell his brothers he would catch up with them later. He returned to Squad 1 to get his gear.
Stephen drove his truck to the entrance of the Brooklyn Battery Tunnel, but it had already been closed for security purposes. Determined to carry out his duty, he strapped 60 lbs. of gear to his back, and raced on foot through the Battery Tunnel to the Twin Towers, where he gave up his life while saving others.
Stephen had everything to live for; a great wife, five wonderful children, a devoted extended family, and friends. Our parents were lay Franciscans and we grew up under the guiding philosophy of St. Francis of Assisi, whose encouraging and inspirational phrase "while we have time, let us do good" were words that Stephen lived by. Stephen's life and heroic death serve as a reminder to us all to live life to the fullest and to spend our time here on earth doing good – this is his legacy.
The mission of the Stephen Siller Tunnel to Towers Foundation is to honor the sacrifice of Stephen. We do this by honoring our military and first responders who continue to make the supreme sacrifice of life and limb for our country.
---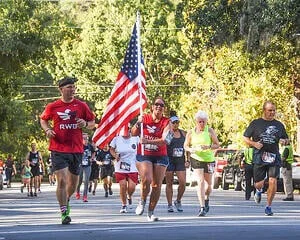 Todd: So, what does the foundation do?
Frank: Started with 1,500 participating in inaugural T2T 5K run & Walk and now we've worked with Superstorm Sandy Relief, educated over 250,000 with the 9/11 mobile exhibit, pledged over $3.2 million to families of first responders and veterans through our Gold Star and Fallen First Responder home programs and are on our way to building 200 smart homes for catastrophically injured American service members.
Todd: Where does that money go?
Frank: We keep our expenses at a minimum as well as our overhead costs and are proud to say that 93% of our fundraising dollars go directly to programs to help others.
Todd: Tell me more about the Smart Home program: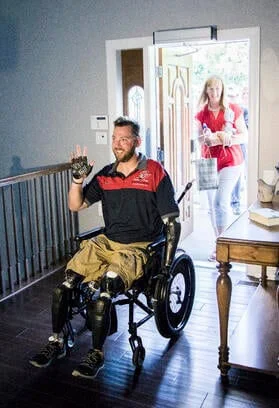 Frank: Our mission is to show our gratitude for the sacrifices and service of the U.S. Armed Services returning from war who have been catastrophically injured by building smart technology homes so they can regain their independence. The Tunnel to Towers Foundation constructs these smart homes that are mortgage free to the service member and their family.
Todd: And what is a smart home?
Frank: Smart homes technology has a myriad of features designed to accommodate wheelchairs and help injured service members function independently and safely in their home.
Todd: What about the non-smart homes? I saw something about Gold Star and Fallen First Responders?
Frank: The Gold Star Family Home Program, launched in September 2018, honors the legacy of those who made the ultimate sacrifice while serving our country. The Foundation will provide a 100 percent mortgage-free home to surviving spouses with young children. The Foundation is committed to raising $250 million to provide 1,000 homes to Gold Star Families.
The Tunnel to Towers Foundation is committed to ensuring we never forget the events of 9/11 and the sacrifices that were made and continue to be made by our first responders in the line of duty. Through our Fallen First Responder Home Program, we support our law enforcement, firefighters, and emergency workers that lost their lives under extraordinary circumstances in the line of duty. In these times of tragedy, it is our mission to provide a support system for the surviving family and ensure that they are cared for. See more about our recipients and their legacy here -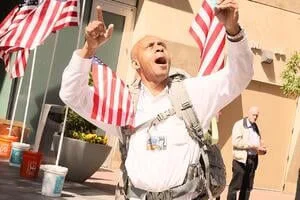 Todd: What are some of the ways people can help?
Frank: There are several ways people step up to support our foundation;
We have the National 5K Run/Walk/Climb series. Cities across the country honor Stephen by hosting either a 5K Run / Walk or a Tower Climb.
Our largest Tower Climb of the year takes place next month at One World Trade Center in NYC. Also, the largest 5K takes place in late September in NYC. 30,000 people literally retrace Stephen's steps on that terrible day in 2001 .
The 9/11 Never Forget Mobile exhibit travels all over the country - https://tunnel2towers.org/our-programs/911-never-forget-mobile-exhibit/
There is the T2T National Golf Series which hosts tournament around the country. The largest event is held at the Liberty National Golf club in NYC.
Or – you can join us in our newest fundraising effort by signing up to donate $11 per month to the foundation. We just passed the 15,000-member mark and are looking to double that number by the end of the year to provide even more services to those in need.
Todd: Wow – that's a lot! SO where can our followers go to find out more information?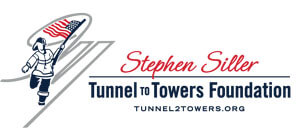 Frank: Visit www.tunnel2towers.org and you'll find everything you need!
Todd: Thanks so much for being with us today, Frank. We really appreciate it and we look forward to spreading the word far and wide so that we can continue to support our military and first responders who continuously put their lives on the line for us.