What I Need for My Hole in One Event: Tournament Checklist
Congratulations! You're planning your first hole in one contest. A hole in one contest is an enticing way to attract sponsors, keep golfers happy and get them excited to participate in your golf tournament year after year.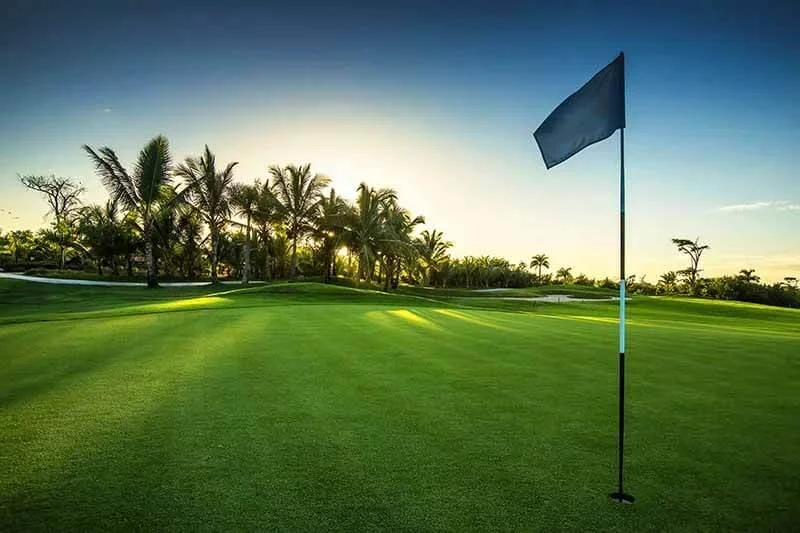 With all of the excitement surrounding a hole in one contest, there are many details you'll have to consider, which can make planning your contest and golf tournament a bit stressful. From finding sponsors, to setting a date, and finding golf event signage, there seems like there is so much to do, but so little time!
We realize that you want your event to go as smoothly as possible so it can be a huge success. To help you organize your golf tournament, American Hole 'n One has put together this comprehensive checklist, so you won't overlook any small detail. Stay on track, and avoid getting overwhelmed, with our tournament checklist below.
Select your Date and Location
The first step to planning your hole in one contest is to set a date and pick a location. Most of your planning will rely on where your golf tournament is and when it is being held. Be sure to check that it does not intervene with any other large events in your area, which may take away sponsors or event attendees.
Set the Budget and Pick a Prize
Next, you'll need to determine your budget and figure out how much you are willing to spend. To attract more attendees and sponsors to your event, you'll want to up the ante and really go big with your prizes. The more you are able to offer your golfers, the more people you're going to attract to your event.
Get Golf Tournament Hole in One Insurance
The biggest portion of your budget may go towards the grand prize you are going to offer at your hole in one contest. You might want to consider giving away a car, a vacation, tickets to an event, or even offer a cash prize! If you can't fathom footing the bill for an extravagant prize, getting golf tournament hole in one insurance may be right for you.
Insurance for hole in one golf tournaments is ideal for promoting high-profile hole in one prizes -- without the risk. At American Hole 'n One, our Hole In One Insurance Policy covers the cost of your selected prize and we assume full responsibility should someone shoot an ace. This gives you the ability to offer big prizes, and even offer a million-dollar shootout, without having to cover the expensive costs. Plus, with a number of unique prize packages, including trips for two, cars, and motorcycles, you can customize the prize to fit your needs!
Attract Sponsors to your Golf Tournament
After you've determined your high-profile prize, you can start promoting your event to local and major sponsors. You can set up sponsor packages and offer your sponsors different promotional promises based on their payout.
For example, your Title Sponsor is your golf tournament's biggest sponsor and will pay enough to have their name on the event. This sponsor would get the most recognition at your event in terms of signage and advertising.
A Presenting Sponsor, although not as big as a title sponsor, should appear on all brochures and advertising. You can also find companies to sponsor your hole in one contest or million dollar shootout, which is very appealing for most sponsors to put their name next to such a great grand prize.
Golf Event Signage
Once you've secured sponsors for your event, it's important to organize your golf's event signage. Golf event signage is important for a few key reasons. First, it helps attendees navigate your golf course and understand the schedule. Second, high-quality event signage will help brand your golf tournament and provide a professional appearance. Lastly, and most importantly, your signage can recognize and thank your sponsors.
American Hole 'n One Signage Options
American Hole 'n One operates an in-house state of the art, 15,000 square foot printing facility that will meet all of your golf sponsor signage needs. We offer numerous golf sponsor signage options that are perfect for providing your tournament with a professional look and thank your sponsors for their support. Some of the golf event signage options we offer include sponsor hole signs, golf tournament banners, and an oversized check to present the winner of your hole-in-one contest!
We offer three unique options to fit your golf tournament's budget. The Eagle Option is our most premium option and features a high-quality design with a weather-proof material. The Birdie Option is perfect for those who are on a budget and in need of a tight turnaround. We can also build you a customized package that meets your needs. In many cases, we can produce high quality signs in as little as 24 hours for your convenience!
Consider Event Coverage
Are you worried about weather not going your way on the day of your golf event? Imagine putting all that time and effort into your event only to have it rain. Unfortunately, golf tournaments get rained out all the time, causing unique challenges like loss of non-refundable deposits. Fortunately, American Hole 'n One provides Event Cancellation Insurance Coverage to protect you from the costs of cancellation due to rain, wind, lightning, and snow.
Contact American Hole 'n One for Your Golf Tournament Needs
If you need help planning your golf tournament or hole in one contest, American Hole 'n One can help. We are your partner for hole-in-one insurance, golf event signage, and event cancellation coverage. Our team can walk you through the entire process, so you can organize a successful golf tournament that's attractive for both sponsors and event attendees. For step by step help with setting up your tournament or to add additional contests or giveaways, contact us to talk to a Golf Excitement Specialist today!